…at the Green Valley Country Club! Or, at least it will be, this Thursday in Lafayette Hill! Our annual WFIL Pastors Appreciation Breakfast features free and convenient parking, along with all the special surprises you've come to expect, plus an inspiring message from our keynote speaker: Dr. Robert Jeffress of Pathway to Victory! Click on the graphic to sign up NOW, Reverend!
…why not celebrate Dr. Jeffress' Pathway to Victory as our Ministry Of The Month? Hear the WFIL Pastors Breakfast speaker every weekday at 2pm on WFIL, offering teaching that is bold, Biblical, and refreshingly practical! Click the banner to register for great prizes, and to send the ministry an encouraging word.
It's a long way to our goal, and we truly need your help! Every day, a thousand women with unplanned pregnancies call The Option Line from Heartbeat, International! These ladies will be connected with a local pregnancy center, and the encouragement they need to choose life! Help Heartbeat keep the Option Line in operation for one more hour with your gift of $75! Click through the Option Line banner to make your gift now.
| | |
| --- | --- |
| Now's the time to plan your summer vacation in Europe! Join Alistair Begg of Truth for Life on the Reformation Tour and River Cruise! Imagine walking through the gates of Castle Church, where Martin Luther posted his 95 theses and the Reformation began! And that's just PART of the land-based tour! You can also choose to cruise the Blue Danube to ports in Austria, Germany, and Budapest! Don't miss this once-in-a-lifetime adventure! Hit the banner for more info, or to sign on now. | Join Drs. Tony and Lois Evans…their son, Anthony…and Christian singing sensation, Meredith Andrews! As together, you Experience Israel this November! Jerusalem, the Dead Sea, the Galilee, the Judean Wilderness—it's all here, on your once-in-a-lifetime tour of the Holy Land! Hit the graphic for complete info…then, start savin' your shekels! |
Here's first word on a new film from your friends at FamilyLife Today! Like Arrows explores the challenges and joys of raising children, as it follows one couple's journey over 50 years, as they discover the unmistakable power of family. Like Arrows: coming to theaters for two nights only, May 1st and 3rd! Click on the banner for the trailer, tickets, and more!
The National Day of Prayer is Thursday, May 3rd! This year's theme is Unity, based on the words of Ephesians 3. Click on the graphic for info about Philly's Liberty Prayer Alert, and to locate other local Day of Prayer celebrations. Then, plan to join us in prayer!
| | |
| --- | --- |
| …to "e-file" your contest entry, and maybe win our $4000 Tax Day Bonus! So, be sure you register online by April 16th! WFIL Rewards members, click on the banner here to sign up! | Download our mobile app for your mobile device! And learn how to "enable the skill," so your Amazon Echo™ will play WFIL on-demand! Click on the banner to reach the "Mobile App" page at WFIL.com. |
The next "Every Man's Battle" workshop from Steve Arterburn and New Life Live is June 1st in DC. But, you can take the 30-Day Challenge anytime! Click here for more…and, listen for New Life Live every weekday at 1pm, with a replay at midnight on WFIL!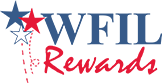 Join our Fan Club