Nine out of ten Christians in places like Asia, Africa, and the Middle East don't have a Bible in their own language! Please help us send Scripture and reliable study materials, through the Bible League! Thanks to a limited-time matching grant, your gift will send twice as many Bibles. Click through the banner to give online today!
In preparation for the upcoming Life Recovery Conference in suburban DC May 20th, New Life Live will be doing a special program just for WFIL listeners on Friday, May 12th! Don't miss your chance to call in with questions for Steve Arterburn and Milan Yerkovich, as they'll only be taking calls from WFIL listeners that day! Tune in, and call between 1 and 2pm that day. It's an especially great time to get your recovery related questions answered! Click on the logo for conference info!
| | |
| --- | --- |
| WFIL welcomes two new programs to the weekday lineup! Listen for Know the Truth with Pastor Philip DeCourcy at 5am and 9:30am. Then, check in at 2pm and 10:30pm for Dr. Robert Jeffress and Pathway to Victory! It's more solid Bible teaching and encouragement, weekdays on Philadelphia's Christian Radio! | Hope for the Heart with June Hunt is our Ministry of the Month! If you're a member of WFIL Rewards, register free! Everyone who signs up is a winner, and we have some truly great prizes this month, so don't miss out! Hear Hope for the Heart weeknights at 6pm, and Hope in the Night Tuesday through Saturday at midnight, LIVE on WFIL! |
Break down the triumphs and near misses with an all-star panel, as you attend President Trump: The First 100 Days! Monday, May 22nd in the Irvine Auditorium, on the campus of the University of PA! Interact LIVE and in-person with radio hosts Hugh Hewitt and Dennis Prager, and now: Fox News contributor and Townhall.com editor, Katie Pavlich! This event is filling up fast—seating is limited—and WFIL Rewards members save when you buy your tickets in advance! So join or log in to our listener club homepage for the discount promo code, then hit the banner to buy tickets now!
| | |
| --- | --- |
| STARTING MONDAY, MAY 8th, discover the God of the Bible with John MacArthur's powerful book, None Other! Request your free copy (a $10 value) by clicking on the banner here! And, don't miss John MacArthur on Grace to You, weekdays at 11am on WFIL! | "Celebrate Freedom" is the largest, one-day FREE Christian music festival in America! Saturday, June 24 in Dallas, Texas! Register to win hotel, airfare, VIP seating, backstage passes and more for a family of FOUR! Only WFIL Rewards members can enter, so sign up for our listener club TODAY! |
Go to TRADEway's next seminar on Friday and Saturday, May 19th and 20th at the Double Tree Hilton Valley Forge. Ken and Marsha Jones will break down the confusing world of finance. Learn about trading, investing, and protecting your money. Set your goals, choose your path, and start taking steps to get there! Click through the banner to find out more – there's a money-back guarantee!
| | |
| --- | --- |
| As WFIL Rewards members already know, our listener club offers many benefits! Special discounts, extra chances to win, and unique MegaContests, like the $4,000 "Beach or Bust" Sweepstakes, underway now! This Miami getaway is for Rewards members only, so sign up, then enter daily at WFIL.com! | The new WFIL FaithTalk magazine includes articles from James MacDonald, Pastor Richard Morgan, June Hunt, and others! PLUS: three exclusive articles on the anniversary of the Reformation! Click on the cover graphic (above) to read the E-Zine online, and pick up a hard copy at any WFIL road show! |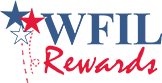 Join our Fan Club