…and we all have questions. How did the media avoid reporting the horrors taking place behind the doors of 3801 Lancaster? Why did so many in government simply look the other way? WFIL invites you to An Evening with the Authors of the explosive new book from Regnery Publishing: Gosnell—The Untold Story of America's Most Prolific Serial Killer! Our event takes place Thursday, April 20th at 7pm at Green Valley Country Club in Lafayette Hill, PA. Tickets are $12, but WFIL Rewards members pay just $9.90 when you enter the coupon code at checkout! Log into WFIL Rewards to get the code, then click on the banner to order your tickets now. Seating is extremely limited!
…to help Syrian children who fled the only home they've ever known, seeking refuge from war and terrorism in nearby Lebanon. Innocent children…many of whom lost one, or both parents…wandering dangerous tent settlements in Lebanon, the victims of the greatest humanitarian crisis of our generation! Your one-time, $98 gift brings 18 children food, education, and—most importantly—the life-changing Gospel of Jesus Christ, right where they are! See the photos, read the stories, and then give online by clicking through the Heart for Lebanon banner! We're so close to our goal. Can you help us today?
| | |
| --- | --- |
| "Celebrate Freedom" is the largest, one-day FREE Christian music festival in America! Saturday, June 24 in Dallas, TX! Register to win hotel, airfare, VIP seating, backstage passes and more for a family of FOUR! Only WFIL Rewards members can enter, so sign up for our listener club TODAY! | Well…Somebody Loves You with Raul Ries is our WFIL Ministry of the Month! Be sure you're a WFIL Rewards club member, then click on the banner to enter and receive Raul's 4-CD series on the book of Revelation! Great daily and a Grand Prize as well, so don't miss out! Hear Somebody Loves You weekdays at 10:30am on WFIL! (*Archaic reference to classic TV show, Kojak) |
Wherever you stand, the President's first weeks in office have been historic! Break down the triumphs and near misses with an all-star panel, as you attend President Trump: The First 100 Days! Monday, May 22nd in the Irvine Auditorium, on the campus of the University of PA! Starring Salem Radio Network hosts Hugh Hewitt, Dennis Prager, and their A-list guests, leading an honest discussion of the President's first 100 days. This event will fill up fast, and seating is limited, so be listening for the date they'll go on sale! WFIL Rewards members will save on their ticket purchases!
Think of the photos you'll take, the stories you'll tell, when you return from your first-class vacation of a lifetime in the Holy Land! Experience Israel with Mark Daniels and Genesis Tours, November 1st through the 10th! Click on the banner for more;
Email Mark with any questions!

You have only a few days to enter and win our $3,000 Rainy Day Sweepstakes! Of course, you MUST be a member of WFIL Rewards to take part! Click through the banner for your shot at all that green! Another BIG giveaway coming later this month!
Go to TRADEway's next seminar on Friday and Saturday, May 19th and 20th at the Double Tree Hilton Valley Forge. Ken and Marsha Jones will break down the confusing world of finance. Learn about trading, investing, and protecting your money. Set your goals, choose your path, and start taking steps to get there! Click through the banner to find out more – there's a money-back guarantee!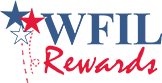 Join our Fan Club